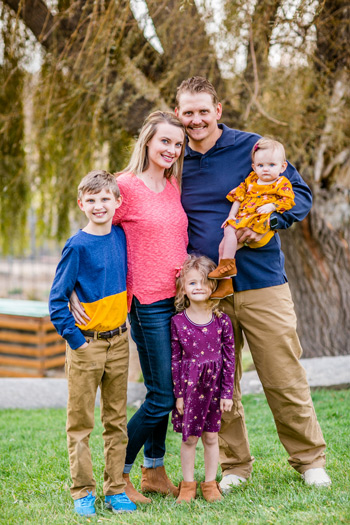 Dustin Hunter, the owner of Ace of Diamonds Painting, is a proud native of Longmont, Colorado. He graduated from Skyline High School in 2002 and attended the University of Colorado at Boulder, where he sought a degree in communication. During the summers, Dustin painted and worked for a national internship where he worked extremely hard. He eventually worked his way up the internship ranks, ultimately becoming the company's General Manager and taking on the responsibility of managing 150 employees. In 2008, he and his wife Elizabeth were blessed with a son. Soon, Dustin was compelled to move on from the internship and make his own name in order to support his new and growing family, which now includes a son and two beautiful daughters.
Dustin started Ace of Diamonds Painting in 2009. With very little to his name, he hit the streets and began knocking on doors and handing out flyers to spread the word, laying the foundation for his company to become something great. He stayed committed to his vision of being a well-respected company, and built a great reputation by showing up on time, fulfilling the promises he made, and giving people high-quality long-lasting paint jobs. All the while learning what it takes to be a successful small business. Dustin is still very committed to this vision and continues to work hard at conscientiously improving the business, not only for his customers, but for the employees of AODP as well.
Dustin will still knock on doors spreading the word about Ace of Diamonds Painting, because he is dedicated to the growth and success of his business and believes in the value that Ace of Diamonds Painting has to offer.
Contact Dustin and his team of skilled painting contractors for more information about how the team at Ace of Diamonds Painting can make your home sparkle again!